-
-
Why the tire industry needs a specialized tire and wheel handling systems supplier?
16.12.2020
Why the tire industry needs a specialized tire and wheel handling systems supplier?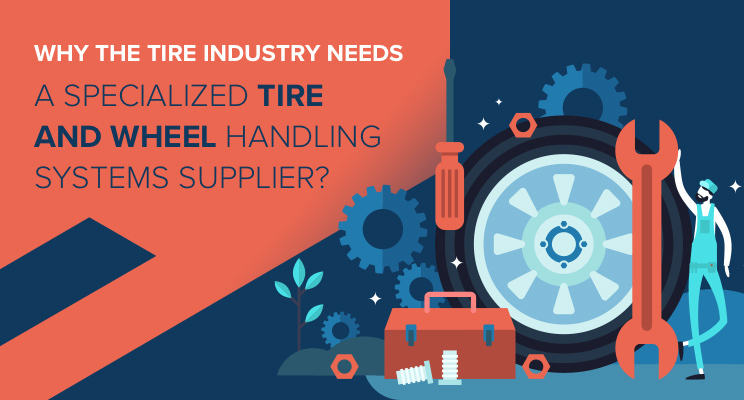 Delays in order fulfilment, staff shortages, or supply disruptions – the pandemic has highlighted the risks to which global supply chains have been exposed for many years. This also applies to tire and wheels handling systems, which are crucial for, among other things, seamless operations of logistics companies. It is a specific and difficult segment for logistics brands active in the automotive industry. Why? In this case, precision, perfect integration of delivery throughout the chain, time, and the ability to meet customer requirements are of the paramount importance. And these are constantly evolving. The answer to those needs is an advanced and automated system covering every stage of tire transportation.
Most of the companies providing services for tire brands have ready-made sets of solutions, which are then adapted to the requirements of customers. Unfortunately, this approach poses many potential problems. The reason is too much variety of the offer and the lack of specialization in a particular business area.
"It might seem that a catalog solution allows to respond to the expectations of a particular company quickly and to implement the whole system in the customer's factory effectively. The truth is quite the opposite. When it comes to conveyors, standard solutions don't fulfill the customers' needs. Instead, suppliers should prepare a system tailored exactly to the specifics of a particular factory, its infrastructure, and the model in which the employees operate" – explains Agnieszka Bawor, Project Manager in Tire Business Unit
Relying on existing solutions runs the risk of potential modifications that will have to be made during system implementation. There can be many reasons for this – collisions with the existing infrastructure, improper selections of materials used to make the conveyor belts or lack of knowledge about the performance of the customer's team.
"Transport doesn't function as an independent unit but is connected to other significant elements of the factory's infrastructure. So the transportation lines must be designed in a way that are adapted to each stage of the line, guaranteeing appropriate safety standards, and also allowing for possible expansion and adaptation in the future" – adds Łukasz Toboła, Project Engineer in Tire Business Unit
Transsystem, however, takes a comprehensive and holistic approach to the topic of tire handling systems. After all, the company cooperates with the biggest players in the industry for a reason. Its large portfolio includes such brands as Continental, Bridgestone, Michelin, and finally – the first customer in business – Goodyear for which Transsystem was responsible, among other things, for the development of comprehensive conveying systems and tire control solution according to its own design and technical documentation complying with Goodyear requirements.
So what is the Transsystem's philosophy and what added values does it generate for customers?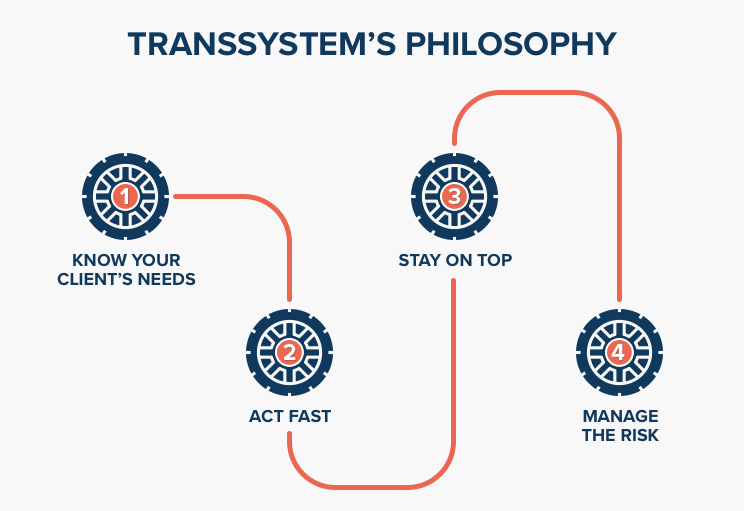 First of all, know your client's needs
Conducting an audit, identifying customer needs, and then – developing a tailor-made solution offer
At this initial stage, Transsystem sends a team of specialists to the potential customer's factory: steelwork and mechanical engineers, safety specialists (responsible, among others, for the design and installation of safety fences, which prevents dangerous accidents), an electrical engineer and a software developer who is responsible for choosing the optimal solution, drives, inverters and efficient design of the system.
"Components which are planned to be used in the new conveyor systems for both brownfields and greenfields should always be designed to be as close as possible to existing ones or as repeatable as possible (for the green field plants). This approach provides significant cost savings in terms of spare parts inventory for the plant maintenance services" – says Krzysztof Bieniek, Head of Technical Department
Transsystem specialists then review the customer's infrastructure, identify business needs, and make detailed measurements. They allow determining the types of conveyors of the transport system necessary for each stage of the line: green tires (intermediate product – rubber may stick to the different surface at this stage), curing (collection from presses), final finishing and palletizing. In addition to technical aspects, the Transsystem's team obtain information on the efficiency of used machines, production capabilities, and the number of tires produced.
It is worth highlighting that Transsystem usually provides solutions to improve the performance of brownfield (existing) factories as the company is not limited only to greenfield (new) factories. The former are much more challenging, as they require taking into account many variables to avoid collisions with existing machines and structures, but also to enable workers and vehicles to comfortably move around the production area (in this case, transport paths are taken into account).
Some factories have also well-organized technical departments with engineers who can answer Transsystem questions, and this speeds up the entire process and supports the potential supplier (the side represented by Transsystem). Most companies, however, do not have such units, but Transsystem has the competence to handle these types of projects on its own and help end-users to improve existing solutions
"Modern handling systems are exceptionally complex and extensive. An answer to this challenge is distributed control solutions, which require a holistic approach and appropriate planning in either design and installation phases. The implementation of advanced engineering tools for simulation and emulation let us create more efficient, optimized applications and ultimately accelerate final product launching" – explains Artur Trela, Head of Control Systems Department, Transsystem
If you are interested in conducting this type of audit in your factory, contact us: https://transsystem.pl/en/contact/
Second of all – act fast
Short delivery time
Efficient information management, excellent knowledge of market needs, and current technological trends, as well as a broad portfolio of projects completed so far (over 300) significantly reduces the time of preparing complete quotation. Thanks to a thorough audit, experience, and know-how of the dedicated Transsystem's team, the offer is prepared within only 2-3 weeks. The project itself can be completed within 8-16 weeks depending on project size, while the market average is 20 weeks. This is possible thanks to the experienced and committed project manager responsible for delivering the whole solution.
Stay on top
Excellent product knowledge
Each of the large tire companies operates within an international network, which requires the development of global guidelines and standards. Transsystem consultants, although they are aware that a specific factory requires an individual approach, still stay informed by monitoring key information about their current and potential customers, which can help during future audits or adapting existing solutions to new customer needs.
Manage the risk
A holisitc approach
Efficient risk management is mostly possible thanks to a thorough audit at the customer's factory, which then makes it possible to perform simulations. They aim to predict possible collisions on conveyor lines, problems that may occur and which may translate into disruptions in the smooth running of the process.
Moreover, the precise identification of the client's needs allows desiging scenarios for the development of its business (which takes into account, for example, system expansion). Maintenance specialists appreciate Transsystem's broad knowledge – they see that their needs are understood, that they are heard and do not waste time on unnecessary explanations, which significantly increases the efficiency of cooperation.
"Transsystem has resources that allow the company to adapt to any tire brand requirements because we don't offer ready-made solutions but instead – we always take into consideration specific requirements of a particular factory. Each project means an individual approach" – concludes, Tomasz Wyskiel, Manager of Tire Business Unit
Transsystem specializes in designing and manufacturing material handling systems suited to the needs of its customers. The company has gained experience by implementing projects in many countries, in the vast majority of tire and car factories around the world as well as other industrial sectors.
If you want to discuss what solutions would be the best for your company, contact us: https://transsystem.pl/en/contact/
To learn more about Transsystem's offer, please go to: https://transsystem.pl/en/offer/transportation-of-tires-wheels-and-rims/