10.03.2021
Transsystem reports 8% revenue growth for 2020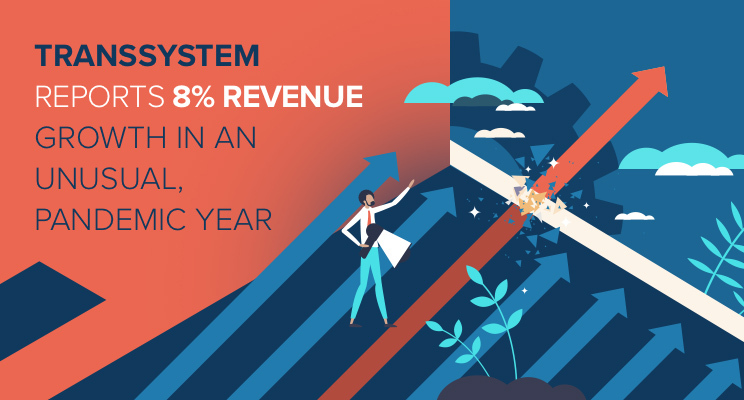 Due to the pandemic, 2020 was a challenging year for the majority of industrial sectors. It was no different for the tyre industry which faced factory downtime because of shutdowns in Asia, including China, and a drop in demand as a result of lockdowns introduced throughout Europe. Transsystem also had to revise its plans for this reason. Despite this, the company managed to meet its pre-pandemic sales targets, ending the year with a result of EUR 30 million.
Pandemic puts brakes on ambitious 2020 start

Obviously, the most important challenge that affected the industry last year was the emergence of COVID-19. Lockdowns were announced in many countries, which meant that trade almost completely dried up. This led to the temporary closure of car dealerships and a significant fall in car sales. Furthermore, suppliers experienced stoppages in production, with this situation being further exacerbated by a shortage of electronic components, mainly from China and Asia.
"While tyre manufacturers were not entirely exposed to production stoppages due to a lack of components, the downtimes of car production lines resulted in a temporary shortage of OE (Original Equipment) tyres. This has therefore also forced downtime in production at tyre plants. As for the AM (after market), the lockdown here too, and the consequent lack of mobility, contributed to the drop in tyre sales, as car traffic almost came to a standstill for several months", explains Tomasz Duda, Vice President Global Sales Transsystem.
As a result, production declines especially in the second quarter of 2020 reached almost 70-80% and many investments were withheld or postponed until the following months.
Q3 and Q4 see a market rebound
In the third and fourth quarters of 2020, following the restarting of economies in particular countries, the automotive market recovered, and individual manufacturers began to make up for the losses of previous periods.
"Of course, the market's annual performance was on the low side, but many manufacturers have decided to maintain investments that were previously started and some are even planning expansions in order to continue automating production lines. This stems from the shrinking availability of skilled workers and the possibility of their absence due to the threat of the pandemic", adds Jacek Wawrzyło, Key Account Manager, Automotive Business Unit Transsystem.
The industry is moving towards automation
The process of automating the entire sector (Industry 4.0) actually started several years ago and is now well under way, although much remains to be done. In the areas of production, inspection and packaging, there are many areas that still require human intervention and call for a number of investments. These not only include the deployment of automated transport between processes and operations, but also the buffering and storage of tyres in fully automated spaces. There are even plants now being built that are designed from the ground up for fully automatic and robotic production, although they still require special supervision.
"In automation processes, it is also extremely important to implement 'predictive maintenance' technology, i.e., to adequately forecast possible failures before they actually occur. By providing such information to the maintenance teams in the factories, it saves not only money but also time, as it is possible to carry out maintenance during previously planned production breaks", adds Łukasz Toboła, Project Engineer in Tyre Business Unit, Transsystem.
Breakdowns that occur suddenly and are not foreseen always lead to major disruptions and complications during regular production. This is where the greatest strides for improvement must be made in the future.
Transsystem's ambitious plans for 2021
"Our plans for the coming months are, at a minimum, to match the same performance in the tyre transport systems sector as we did in last year's challenging environment. It is worth noting here that we revised our financial forecasts in the middle of last year and still managed to meet our original sales plans for tyre transport systems (around EUR 13.5 million). In addition, for 2021, we are targeting sales of around EUR 14 million as well as expanding our customer base in this area", concludes Konrad Wilczyński, Business Development Manager, Tyre Business Unit, Transsystem.
To learn more about Transsystem's offer, please go to: https://transsystem.pl/en/offer